Our ideal file type is a PDF saved in 'press quality' settings. Press quality means fonts are embedded and all colours are converted to CMYK, and is the closest way to print what you see on screen. 
Microsoft Office documents (Word, Excel, Powerpoint) are not reliable to print from, as they can change layouts and fonts on different computers. To make a PDF please click 'Save As' and select PDF for the file type. In Excel you might have to print to a PDF (choose PDF as the printer) to make a file that we can use. Please check your PDF to make sure it looks correct before sending it to us. 
For posters (180gsm+) that are images (eg: photographs or art), we'd prefer RGB JPEG or TIFF files.
Edge to Edge Printing
If you'd like colour printing edge to edge (known as 'full bleed'), your PDF must be saved with 3mm bleed. This is not really possible to do in Microsoft Office documents, you need to use a design program like Adobe Indesign, CorelDRAW, or Canva. 
3mm bleed means that the page size of your PDF must be larger by 6mm on each dimension. It should just consist of background only, as it will be cut off.
As an example, Business Cards measure 85 x 55mm, so we need a PDF with a page size of 61 x 91mm, which we cut down to 85 x 55mm: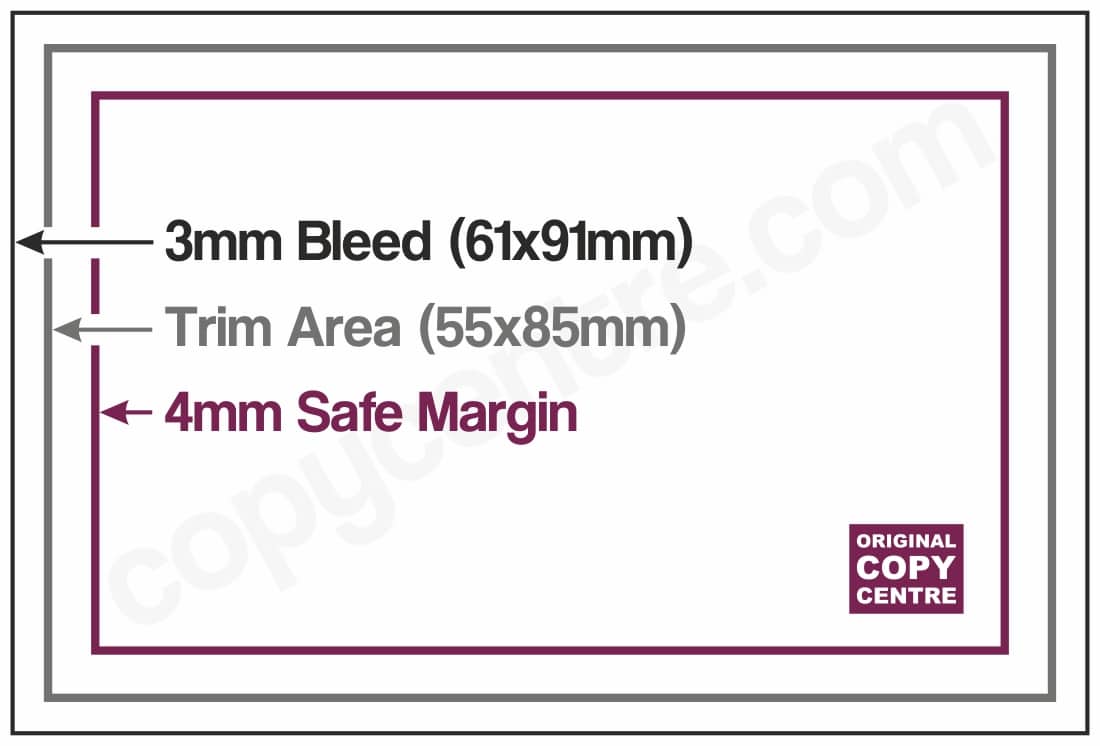 Safe Margin: It's best to have a safe margin of at least 4mm+ on each side of your design. This means not putting any important text or borders too close to the edge of the sheet, otherwise they risk gettting cut off. For posters and large format printing, the safe margin needs to be 10mm+, and for PVC banners it needs to be 40mm+. 
If any of this is too technical we can try to help, as long as no text is too close to the edge. For best results please keep plenty of blank space (background) around the edge of your design, because this will be trimmed off. 
How to save your file with bleed:
Choose File > Export (or Save As) and select the Adobe PDF (Print) format. Select the 'Press Quality' preset. 

In the General tab, select View PDF after Exporting. In Marks and Bleeds, select Crop Marks and Use Document Bleed Settings. Select Include Slug Area if you added any notes in the slug area. Click Export.
Photoshop
Photoshop isn't suited to creating design files for print, but the workaround is to 'print' to a PDF instead. 

Go to Image / Canvas Size and set the units to millimeters.

Your canvas size needs to be 6mm larger on each dimension than the finished print size. If the canvas is currently set to the finished size, then tick the Relative box and enter 6m in the Width and Height boxes. Click OK and your document will extend by 3 mm on each edge.

Adjust your design if necessary (usually by expanding the background)

Print your file as a PDF (eg: select Microsoft Save as PDF as the printer). In the print settings make sure to tick 'corner crop marks' and set the bleed width to 3mm. The scale should be 100%. If the page size is larger that's fine.
On the menu bar, select the Share icon.

Select Download.

On the File type dropdown, select PDF Print.

Tick the Crop marks and bleed checkbox.

Select Download

(The free version will save in RGB colours, which we'll convert on our end)
Paper sizes
We can print large posters at any custom size, but for everything else our workflow is based on standard international paper sizes, and it's best to stick to these:
A0: 841 x 1189mm (with bleed = 847 x 1195mm)
A1: 594 x 841mm (with bleed = 600 x 847mm)
A2: 420 x 594mm (with bleed = 426 x 600mm)
A3: 297 x 420mm (with bleed = 303 x 426mm)
A4: 210 x 297mm (with bleed = 216 x 303mm)
A5: 210 x 148mm (with bleed = 216 x 154mm)
A6: 148 x 105mm (with bleed = 154 x 111mm)
A7: 105 x 74mm (with bleed = 111 x 80mm)
Business card: 85x55mm (with bleed = 91x61mm)