COVID-19: Are you open right now?
Please see our news blog for the latest updates, or any of our social media. 
How do you deliver?
We use next working day couriers for for delivery nationwide (DPD or Royal Mail). You'll usually receive a tracking email which will give an estimated delivery time, along with the ability to manage your delivery (re-arrange the day or specify a safe place for it to be left).
Once we dispatch your order, it should be delivered the next working day. Please note that Northern Ireland, Offshore Islands and some parts of Scotland may take longer.
What do you charge for delivery?
Delivery is included in the price for most products on our website: NCR pads, Orders of service, Waste transfer notes, Posters, Leaflets, Business cards, Thank you cards, Memorial cards, Letterheads and Compliments slips.
Delivery is £8 +VAT (£9.60) for products where you might want to order lots of variations in small quantities: Plan prints, Document printing, and Wedding stationery. We've set our prices very low for these, so you can add lots of orders to the basket, and only pay for delivery once. Delivery will added at the end of the checkout before you pay. 
Do I need to order through your website?
Of course not, most of what we do is custom printing for businesses. 
You can email us directly at sales@copycentre.com
If you would like something that is listed on our website (eg Leaflets, NCR pads), it is useful to order online as you'll have a saved order and delivery address set up.
What if I need something today?
If something is really urgent, please email us your file along with your requirements.   Most jobs can be collected from our shop.  We can also arrange a same day courier for an additional cost.
Can I collect my order from you?
Yes, every job we do can be picked up from our shop front.
We have a convenient main road location in West Drayton, approximately 2 miles from London Heathrow Airport. We are close to the M4 and M25 (convenient for London, Uxbridge and Slough), and there is free parking outside. West Drayton rail station (Paddington overground) is a 2 minute walk away.
ORIGINAL COPY CENTRE
12 Station Road
West Drayton
London UB7 7BY
Monday-Friday: 9.00am – 5.30pm
Do you offer a design service?
We have a highly experienced design team that can help you create the artwork for your forms, leaflets, business cards or posters.  
Simply email with what you would like us to do and we'll get back to you with a quote.
Do you have any templates?
We do have a few simple templates for invoices and orders of service we can email to you.  Please send us an email and we'll attach them with our reply. 
How do I upload my files to you?
When placing your order through our website, you will be prompted to upload your artwork.
If for some reason you don't do this, you can always find your order again by clicking Log In (at the top of the page). You'll be able to upload your file to us there. 
You can also send us files and quote requests to  sales@copycentre.com
If you have very large files or a large number of files to send us, you can also use our file transfer service at copycentre.wetransfer.com 
What is a PDF proof?
For every order placed with us, we will send you a PDF proof which you will need to approve. 
It's a final visual check of all the details, including the text, spelling, fonts and images before we go ahead and print.
How can I pay?
Many products can be purchased through our website and you can pay via credit or debit card.
For email orders we'll give you a full quote before each job, and we can take payment over the phone or by a secure payment link.
We can also email a Paypal invoice if required.
When we dispatch a job, we'll email you a delivery tracking link along with a VAT receipt.
For larger customers we can set up a credit account. (Subject to minimum spend and approval of trade references)
Can I cancel my order / get a refund?
If we haven't started your printing, of course we can cancel and refund you. Please either email or call us and we'll sort it out right away. 
If we have started printing then it may not be possible, but please call us straight away to check. 
If you've made a mistake with your order or file, we'll always try to help you out however we can. 
How long is delivery?
Our turnaround times are stated on each product page. 
If something is urgently required, please email us here: sales@copycentre.com
Where is my order?
As soon as we've dispatched your order, we'll email you a VAT receipt and full tracking details.
For most orders we use DPDLocal who will email you a 1 hour time-slot on the day of the delivery.  Using your reference number, you will be able to rearrange the day, or request that it can be left with a neighbour if necessary.
If you are receiving a same day delivery, you will receive a link with the exact location of the driver.
If you haven't received your delivery or if there is any other problem, please contact us as soon as possible on 01895 443530 and we'll be able to help.
What if I can't find what I want?
We can produce many items that aren't currently displayed on our website.  We have hundreds of different paper stocks, labels and finishing options.
Please email us your requirements and we'll work out the most cost effective way of printing your order, along with any recommendations.
Why do some prices have VAT?
The VAT on printing is different depending on the content and the finish. 
Generally, leaflets, brochures, booklets, manuals, books, and orders of service are zero rated (0% VAT).
Anything else (forms, posters, documents, invitations, vouchers, etc) needs to be priced with 20% VAT. 
Our order summary box displays the VAT on each order, and we'll email you a VAT receipt. 
For more information please see the HMRC website here: https://www.gov.uk/guidance/zero-rating-books-and-printed-matter-for-vat-notice-70110 
Can you print edge to edge (full bleed)?
Yes, though we need your file to be set up to allow this.
We need a PDF file saved in 'press quality' or 'PDF/X-1A' quality, correctly sized with cropmarks and 3mm bleed. 
The 3mm bleed is an extra 3mm of background on each edge, which gets cut off when we trim your print to it's final size. 
For example, if you would like an business card (55mm x 85mm) printed edge to edge, your design including 3mm bleed would measure 61mm x 91mm (an extra 3mm on each edge).
It is also good practice to keep text at least 4mm in from the edge of the sheet, to save it from being cut off. 
If you are having a hard time, please email us your file and we'll try to help. 
Here is an example of how to set up a business card file, where the finished size is 55mm x 85mm: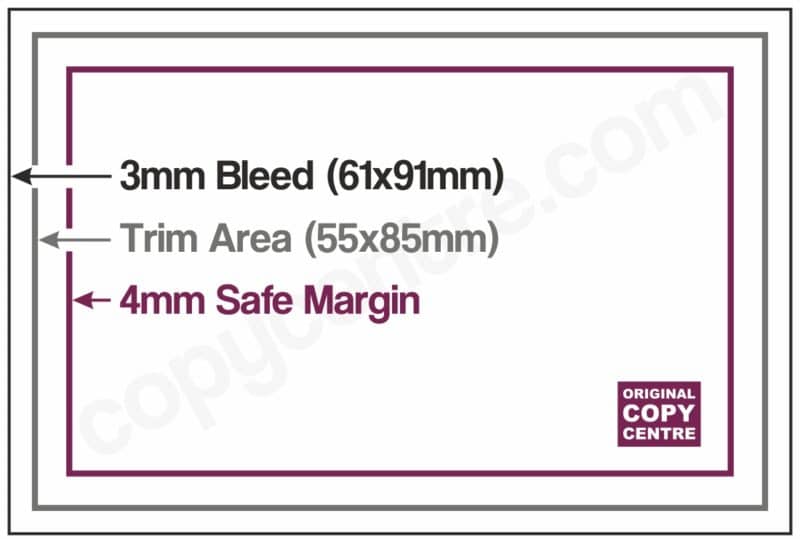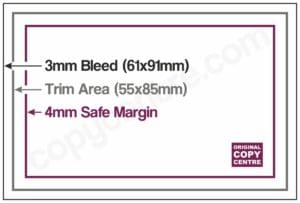 Can you match pantone colours / my screen / something else?
We have very good machines which we calibrate regularly, and some automatically calibrate themselves.
Everything we do though is printed in CMYK; a combination of Cyan, Magenta, Yellow and Black. Most of our machines use toner, but some use inks, and this along with the paper type can affect how colours look. 
'Pantone inks' are specially manufactured inks of a particular precise colour. We don't print with these, and so we can't guarantee to match them. 
We also can't print a colour that will match a monitor or mobile phone screen. This is because screens produce colour by generating light, whereas colours on printed paper are made up of reflected light. 
If you have a job that is particularly colour sensitive, please email us first so we can check your file for any issues.