Business Cards
Business cards are an excellent way of promoting your business to potential clients. It's always handy to have a set of cards in your wallet or bag to give out to customers and especially useful at networking events, conferences or training courses.
We offer a high quality business card printing service. Our standard cards are printed on thick 450gsm card and then either matt or gloss laminated for a premium finish. We can also print unlaminated cards for a simple finish, which also work out to be more cost effective.
Unlike other websites, we do not have an automated ordering system which can mean your order is sent completely unchecked to print. One of our team will look after your business cards every step of the way, from quoting, to checking your file, printing and dispatching for delivery. This will ensure that you receive exactly what you had in mind.
We also offer multi-name discounts if you want to order cards for several people at once. Simply select the number of designs you have (names/sets) and the discount will be automatically calculated.
All prices are plus VAT and include free couriered delivery in 3-5 working days. If you need the cards sooner and are to collect them, please email us your file.
Buying Options
Printed
Number of names / designs
Quantity per design
Price
£

How it works
To place an order, simply select your options, pay online, and you'll be prompted to upload your design (see details in next tab).
If you are ordering more than one type of card, you can do this by selecting the number of names/designs. Please note that the quantities are per design, so if you order 250 cards of 2 designs, you'll receive 500 cards in total.
We don't print anything automatically. We'll check everything, and email you a PDF proof for you to approve before we start. This shows the final layout as it would print, and allows you to check for any mistakes.
Once you approve your PDF proof, we'll get started and email you once we've dispatched your order. The turnaround is 3-5 working days.
File Types
Business Cards Measure 85mm x 55mm
Our ideal file type is a PDF saved with 'press quality' settings, set up with cropmarks and 3mm bleed.
We also accept JPEG, TIFF, Microsoft Word / Powerpoint / Publisher, and we can do the sizing for you.
If you would like your cards printed edge to edge, please include 3mm bleed. This means that your page size should be 61mm x 91mm, which we trim down to the finished size.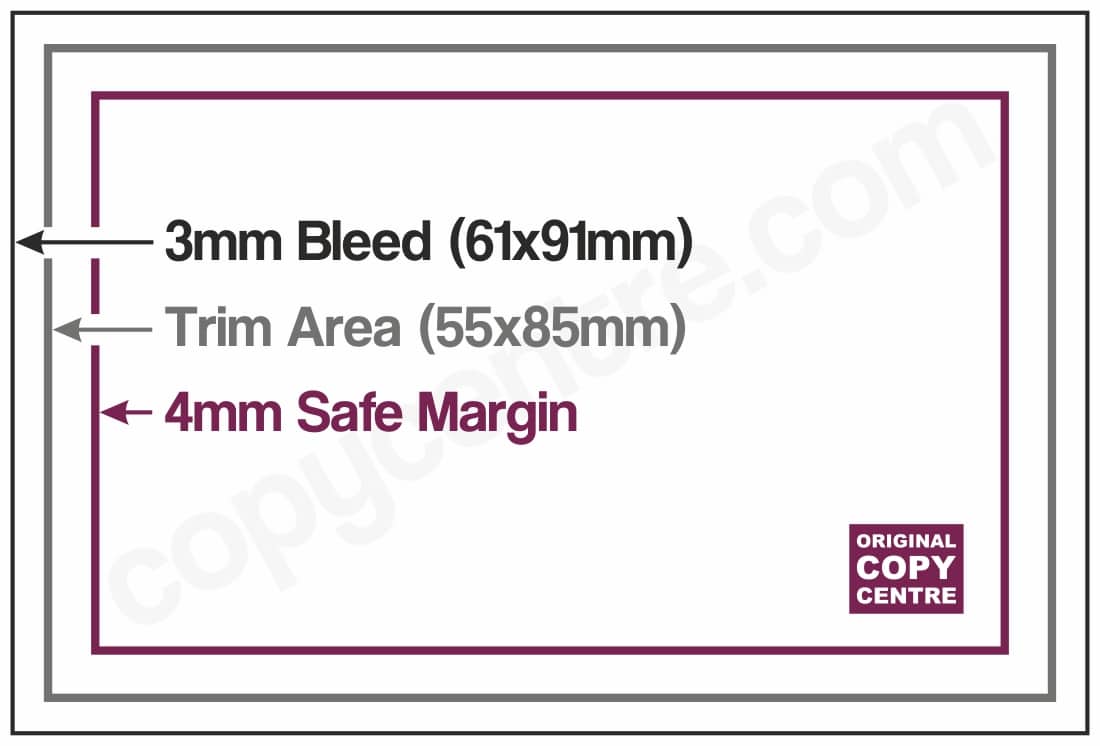 Remember, we don't print anything automatically and we will always check your file and email you a PDF proof first before we start.
If you don't have a design:
For your convenience, here is a downloadable Microsoft Word template that you can edit to make a simple design: Business Card Template
We can design your card for you. Simply tell us your requirements, with any text, logos and details that you would like included, and we'll make up a custom design and send you a PDF proof to approve. Please note that design takes a minimum of 1 working day
Specifications
Business cards are printed full colour as standard, and the prices are the same if printed single or double sided.
450gsm is a thick silk card. Most business cards are printed on 300-400gsm.
Matt lamination is the most popular finish, and has a soft premium feel, which makes them durable and long lasting.
Gloss lamination is the same but with a shiny finish
350gsm silk unlaminated is a cheaper option, and can be written on with a biro
Turnaround time
3-5 working days from approval of PDF proof
Your Summary
Product Name
Business Cards
Number of names / designs