Next Day Delivery
We use next working day nationwide couriers for our deliveries as standard. You'll usually receive a tracking email which will give an estimated delivery time, along with the ability to manage your delivery (re-arrange the day or specify a safe place for it to be left). Once we have dispatched your order, it should be delivered the next working day* (Northern Ireland, Offshore Islands and some parts of Scotland may take longer).
Delivery is free for most products on our website: Orders of Service, NCR pads, Waste Transfer Notes, Posters, Leaflets, Business Cards, Thank You Cards, Memorial Cards, Letterheads and Compliments Slips.
Delivery is £8 +VAT (£9.60) for products where you might order lots of variations in small quantities: Plan Prints and Wedding Stationery. We've set our prices very low for these, so you can add lots of orders to the basket, and only pay for delivery once. 
Unbranded / White Label Deliveries: Please email when ordering if you would like this. We can use unbranded packaging to deliver to your clients / customers nationwide. We can handle all of your printing requirements without you having to leave your desk! 
Same Day Delivery
Same day collection and delivery can be arranged within London and the South East.  We recommend this if your deadline is urgent, and you have no leeway for any delay to your order. Prices start from £40 +VAT for Central London. Please email us directly for a quote. 
Collection
Every job we do can also be collected from our shop front in West Drayton (near Heathrow).  
If you are travelling by car, we are situated on the main road, with parking spaces directly outside (free for 30 minutes with a ticket).
We're conveniently located by the M4 and M25, well suited for Uxbridge, London, Slough, Staines, Berkshire, Buckinghamshire, and the Thames Corridor. We're in Oyster Zone 6, and two minutes walk away from West Drayton Station (Paddington Overground).  
Original Copy Centre, 12 Station Road, West Drayton, London, UB7 7BY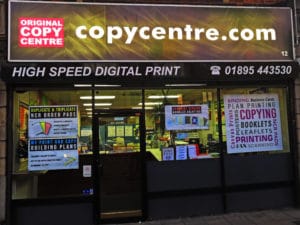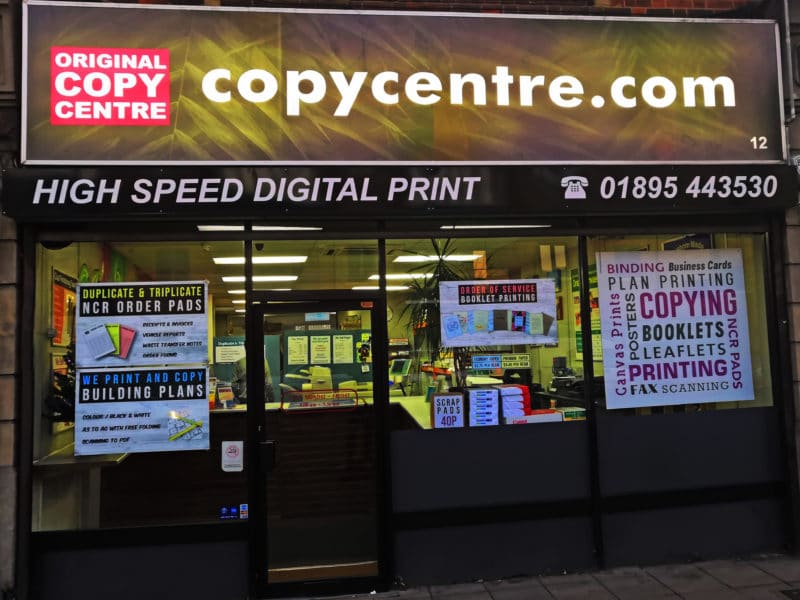 ---
*Please note that there's always a chance that your delivery might be delayed by an overnight courier, for reasons outside our control. If your deadline is tomorrow and you have no leeway, we always recommend using a same day courier instead.