Funeral Orders of Service
We understand that there are some occasions where you need a professional no-nonsense service at the last minute. We can take all the printing work off your hands, leaving you to concentrate on the other preparations for the day. We offer a same day service as standard, but please give us more time if you can.
A5 Booklets folded and stapled to keep as mementos
Colour printing for beautiful photos
Turnaround 2-3 days including delivery
All orders of service are zero rated (no VAT) and include free couriered delivery.
Buying Options
Choose Printing Options
3.
Inside sheets (if applicable)
£

Zero Rated
How it works
We'll need to have a file that is set up and ready to print (see specifications in the next tab).
Simply work out the number of booklets you would like, the print and paper type, and Add to Basket. All prices are zero rated and include free couriered delivery.
The number of pages refers to the number of A5 'sides' in the finished booklet. A 4 page file will translate to a single sheet of A4 card folded to A5.
To pay for your order please click on the checkout logo at the top right of the screen. You'll be prompted to upload your file, and there'll be a box where you can write notes for your order.
We don't print anything automatically. We'll check your order and email you a PDF proof for you to approve first. This shows the final layout as it would print, and allows you to check for any mistakes.
Once you approve your PDF proof, we'll get started and email you once we've dispatched your order. The turnaround is 2-3 working days.
File Types
We need a ready-to-print file in simple A4 or A5 pages in reading order. We recommend using a minimum of font size 12. A Word Document is perfectly fine, though PDFs are better.
Please don't try to lay it out as a booklet (ie: putting 2 pages on 1 sheet), as we will do all the 'booklet making' on our end.
This means that if you want an 8-page booklet, your Word document should have 8 pages. The number of pages must always be divisible by 4, so a 6-page document would need 2 blanks to make 8.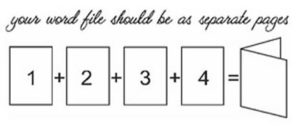 For your convenience, here are some downloadable templates that you can edit yourself:
Remember, we don't print anything automatically and we will always email you a PDF proof first before we start. If you have any questions please feel free to email us first.
Specifications
Print Colour refers to whether we print in colour or black & white.
White 250gsm silk is a smooth white card, with a slight finish to it.
Cream 250gsm bond is a beige uncoated card, with a more of a normal paper texture.
Kraft 170gsm is a brown recycled paper that looks like cardboard, for an unusual rustic look.
Satin bows are little 7mm bows that we hand glue on the front cover in a place that you choose. Click for choice of colours
Booklets are printed on A4, folded in half, stapled twice down the fold (saddle stitched), and trimmed.
Turnaround time
Our standard turnaround time is 2-3 working days, though we can print same day in emergencies, just let us know!
Your Summary
Product Name
Funeral Orders of Service
OoS-Colour
Colour cover, Black & White insides
Inside sheets (if applicable)
Formats
4 A5 pages (1 A4 sheet)