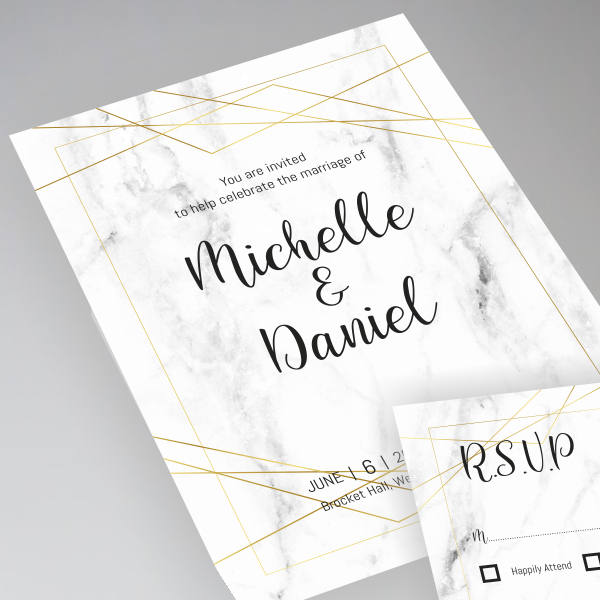 What should I include in a wedding invitation pack?
14 June 2023
Wedding planning is an exciting time for any couple, and one of the most important steps in the process is designing and printing wedding stationery. Save the Date cards, RSVP cards, wedding invites, day/evening invitations, maps, and guest information cards are all essential components of a successful wedding invitation pack.
Save the Date Cards:
Save the Date cards are a great way to announce your upcoming wedding and give your guests plenty of time to plan their schedules accordingly. These cards typically include your names, the wedding date, and the location of the wedding. Many couples choose to include a photo of themselves or an engagement photo on their Save the Date cards to add a personal touch.
RSVP Cards:
RSVP cards are a crucial part of your wedding invitation suite as they help you get an accurate headcount of how many guests will be attending. These cards typically include a pre-printed response card for guests to fill out and return in the enclosed envelope. It is important to include a deadline for guests to RSVP by so that you have enough time to finalise your guest list and catering plans.
Wedding Invites:
Your wedding invitation is the main event of your wedding invitation pack, and it sets the tone for your entire wedding day. Your wedding invite should include all of the essential information such as your names, the wedding date, the ceremony and reception location, and any other important details such as dress code or accommodations.
Day/Evening Invitations:
Day/evening invitations are typically used for weddings where some guests are only invited to the ceremony and others are invited to both the ceremony and reception. These cards usually specify the time and location of the ceremony and the reception and should be sent out to guests accordingly.
Maps and Guest Information Cards:
Maps and guest information cards are a great way to provide your guests with all of the necessary details they need to know for your wedding day. Maps can be especially helpful for out-of-town guests who may not be familiar with the area. Guest information cards can include details such as menus, transportation options, nearby hotels, and any special instructions or requests.
When it comes to printing your wedding stationery, there are many options to choose from.  We can print on different sizes and finishes of card and we can provide envelopes too. Please order online here or send us an email with your requirements.