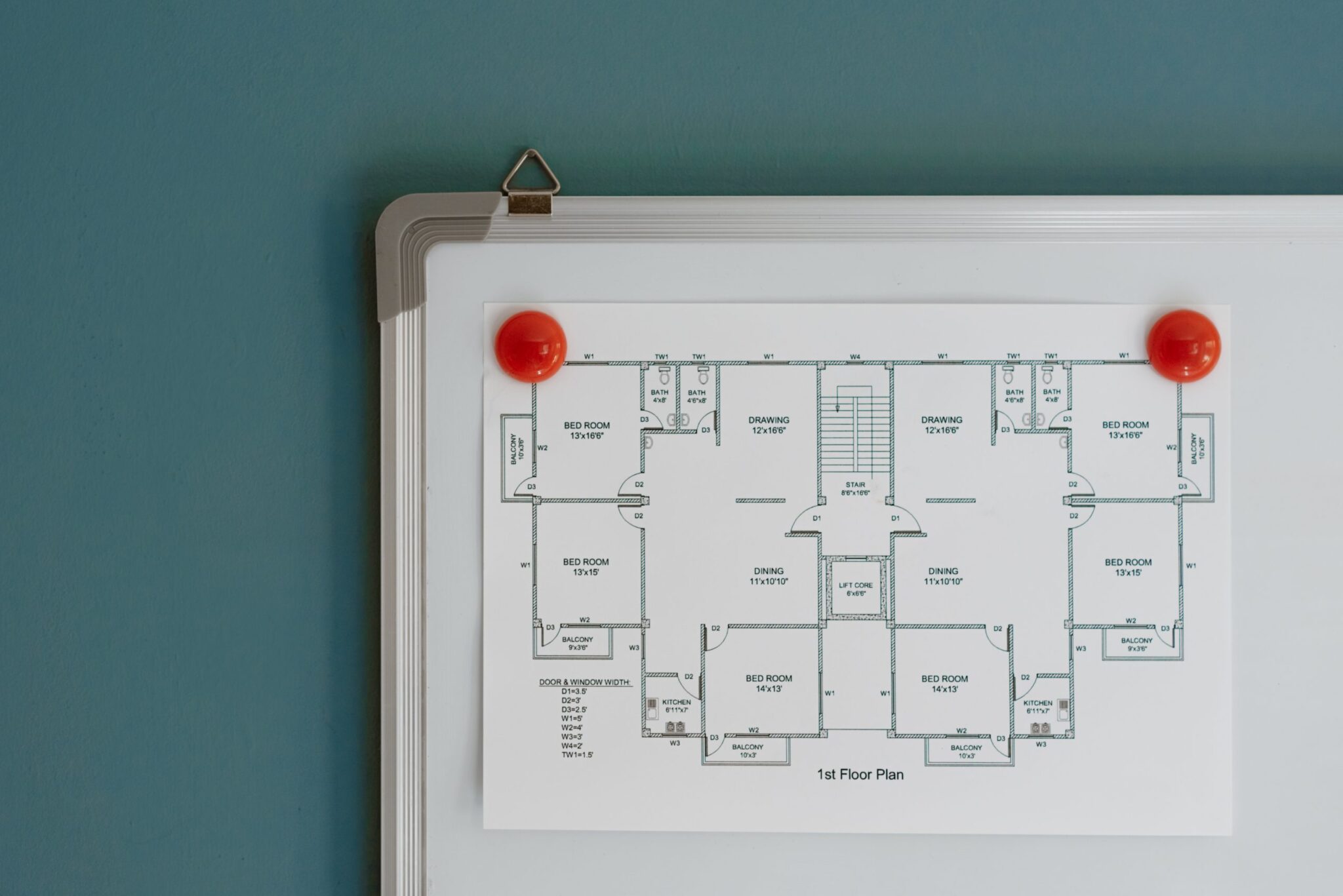 Large format plan printing – a simple guide
2 June 2021
If it's your first time ordering plan prints, or if you need some more information, here are some answers to questions we are often asked.
What file type is best to print from?
We always recommend that you convert your files to PDF.
AutoCAD files (DWGs) can sometimes change between computers, depending on the fonts and references. This can mean text or images go missing!  If you convert your file to a PDF it should mean that everything will print correctly.
If scaling is important, never select 'fit to page' as the scaling will change. Always save the drawings at their correct scale. 
If scaling is not important to you, we can enlarge or reduce the page size to whatever size you like.
What size should I print the drawing?
Most PDF drawings are set up to print to scale, and have the correct paper size saved within the PDF. It's often written in the bottom corner, near the drawing title. The best way to check is in Adobe Reader (go to File, Properties, then Description. The paper size should be displayed below.) 
However sometimes people prefer to print a drawing bigger than it needs to be, so that it is easier to read. Sometimes people prefer to print them smaller so that they are more manageable. If the drawing says NTS (not to scale) then it can be printed at any size. 
If you order with us, we always check that the PDF page size matches to what you've ordered, and we'll contact you if something doesn't make sense.
Most drawings are one of these standard sizes:
A0: 1189 x 841 mm   /  33.1 x 46.8 inch
A1: 841 x 594 mm   /  23.4 x 33.1 inch
A2: 594 x 420 mm   /  16.5 x 23.4 inch
A3: 420 x 297 mm   /  11.7 x 16.5 inch
If in doubt, email us the file and we should be able to tell you the page size.
Colour or black and white?
Some drawings are 100% black and white but sometimes they contain key pieces of information that are in colour.  Light yellow or blue colours don't tend to print well in black and white, and are best printed in colour.  
The drawings are too large to fit on an email – is there another way to send them?
Any large files can uploaded quickly and securely to us on our wetransfer page
Should plans be laminated / on plastic paper?
If the drawing is likely to be on site for a long time and encounter heavy usage, we can encapsulate it (laminate it both sides) to keep it protected from the elements. You can use dry wipe markers on laminated plans for marking up. 
Another option we offer is printing on plastic paper. Plastic paper is tear-proof, heat, and water-resistant, yet still thin like paper. It's much cheaper than laminating, but dry wipe markers do not wipe off it. 
If your drawing only needed for the short term, it can be cheaper to order several paper copies to be treated as disposable instead.  
I've made notes on the drawing – can it be scanned or photocopied?
We can scan and copy paper drawings, and deliver them back to you. We scan to PDF only, not to DWG. Please email us for a quote first.
I need the drawings now – can I collect?
If you cannot wait for a next day delivery, send us an email with your requirements and we'll see if we can get your order ready to collect straight away.  We can also arrange same day couriers or AM deliveries – please email or call us for an accurate cost.
To order online, please visit our Plan Printing page