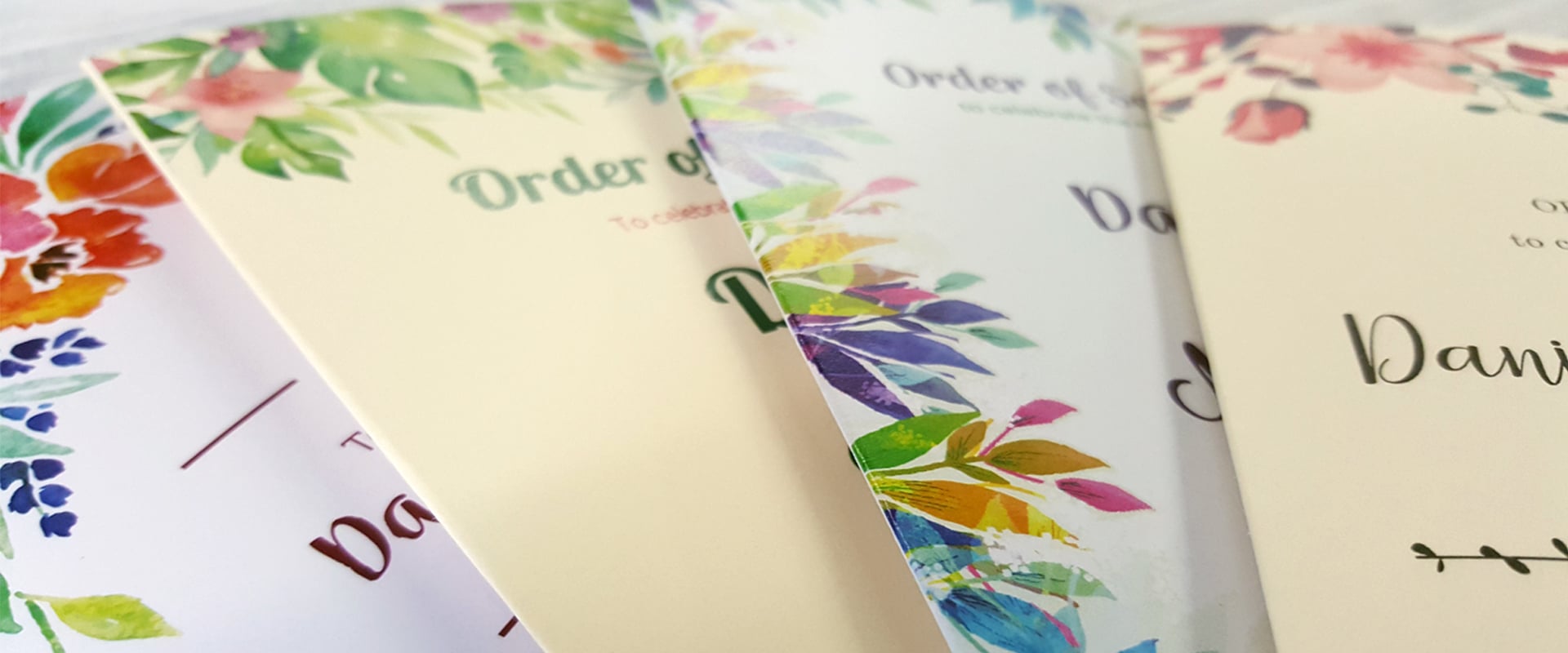 How to create a perfect wedding order of service
1 October 2019
What is an order of service?
An order of service is a stapled booklet which lets your guests know what is happening at the wedding ceremony.   They are important in both religious and civil weddings as they often contain the words of the hymns and readings to make it easier for the guests to follow.
How to create your order of service
Every order of service will be different, but we have created a simple template which you can edit with your own details and email back to us.  The front cover will usually contain the following information:
A heading welcoming the guests to the wedding of the couple, along with their names
A photo of the couple, a meaningful image or a picture of the venue
The date and time of the service
The name of venue
To make it stand out we could add a small bow here and we have lots of different colours for you to choose from.  If you would like to see some front cover designs, please email us and we'll send you a PDF.  We can edit any of these with your own details for an extra £10.
The inside of the booklet will usually contain the running order of events, including the music, messages, readings and hymns.  This information should be confirmed with the celebrant.   It usually ends with a thank you message to the guests on the back cover.  As the covers are usually printed in colour, you could add a photo here. 
Some considerations
Make sure that the text will be big enough to read on an A5 sheet. 
As A4 is the default page size in most desktop publishing programs, changing it to A5 and not going under font size ten will ensure that everything is perfectly readable.
Think about blank pages.
Often it's nice to have the inside covers blank so the order of service will start on the first page of the paper insert.  This would mean pages 2 and 7 of an 8 page booklet will be blank.
Alternatively you could have a list of important people on the inside front cover and a running order for the rest of the day on the inside back cover.
Would you like to see a sample?
Unlike most printers, we can print and post you a sample of your order of service for you to check.  The cost for this is £5, payable only if you wish to go ahead with the full order.
Do you need anything else printed?
Why not have your table plan, table names and place name cards all printed at the same time?
More information and prices can be found here.
© Original Copy Centre